One of the hottest trends right now is WASHI TAPE.
Scrapbookers are going absolutely nuts over the fun, colorful tapes that have their origins in traditional Japanese paper making.
Washi tape is hitting (and flying from) the shelves at an incredible rate and scrapbookers are snapping up the trendy tapes by the handful as they offer a cheap, fun, self adhesive burst of color and pattern on a layout or card.
My addiction to Washi tape truly started before I even really "took off" with Scrapbooking back in 2009.
Back when national bookselling chain Borders (which is now defunct in NZ) started carrying bespoke/off beat stationery, they started carrying Rhodia,
MT Masking
, and O-Check Graphics paper. I found a large pack of solid, dark colours of
MT Masking tape
- and bit the bullet as it was rather expensive.
No one else in NZ had Washi tapes and I thought they were really cool! I soon had collected silver and gold, and some black stripes.
I decorated notebooks and never really thought about encorporating them into my scrapbooking until tape patterns and other companies hit online retailers such as
Two Peas in a Bucket
or
Scrapbook.com
. There's now even a website and several Etsy stores dedicated to selling Washi tape such as
CuteTape.com
and
SugarBSupplies
.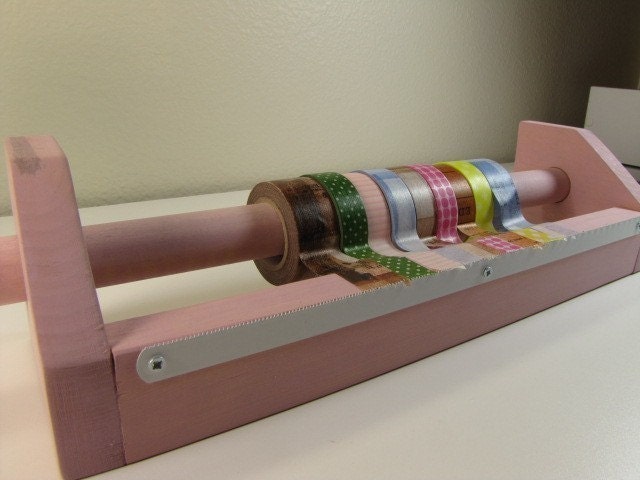 They're truly addictive, and because of all the new patterns like Hambly Studios and even American Crafts getting into the Washi tape game there's more choice than ever before.
Personally, I've amassed a collection of about 32 tapes over the last two years!
Some of my collection really started taking off when Borders went into receivership, as they offered incredibly cheap prices ($1 to $2 each) for their tapes and even the MT brand washi tape cutters.
I
have so much tape that I've begun surfing around for a way to store and organise all my Washi tape!
I'm completely head over heels for this tape storage and cutter from SugarB (right). It seems so simple yet so elegant! I'm really quite envious of it's simplicity in organising and cutting the tape!
I've just added a few rolls to my collection this week from 7Gypsies and American Crafts Amy Tangerine.
Really love the patterns in both of these collections "Avignon" and Woodgrain! Super cute.
All in all, I just can't stop and hope that you check out some Washi tape as a quick way to boost color and pattern in your layouts and cards!