It's Spring down here in the Southern Hemisphere, and for a Southern gal from Arkansas like myself, it doesn't quite feel like October.
I'm missing the fall leaves, Halloween costumes, and highschool and college football mania - not that I participated, but it was a comforting sight to behold.
October used to mean many things to me.
Home made Halloween costumes, gifts for my birthday for one, candy, it was a time of fall leaves and presents. This month I have treated myself to a few goodies (even rare ones!) to make up for it.
First up, I'm now a TOP LEVEL domain
. My blog can now be reached through
http://www.rathercrafty.co.nz
. I took some convincing to do but I finally gave in and bought myself a top level domain. Hopefully I'll be a more attractive site to visit and have a redesign planned. I'm excited by the possiblities being a top level domain can bring.
I'm also trying out a new way to ship goods internationally by using a US address with a mail redirect.
NZ Post Youshop is wonderful. It's rather convenient, and now I can shop at those scrappy (or not!) places and have an economical way to ship goods to me when the seller doesn't have a low-cost interntional alternative. Awesome! I've just ordered my first package from
Joann.com
and it was only 22$ in shipping.
Wood Veneers!
I got addicted to my first wood veneers a month ago when I purchased some Wood Veneer Banners from Studio Calico. I was instantly hooked as you can use these things for so many purposes. You can mask with them, decorate with washi, the possibilities are endless.
I purchased the "butterfly wood veneers" and the "arrows and hearts" - I hope I have enough!
Stamps are coming thick and fast and I'm loving new designs that are hitting the shelves.
I also purchased some old ones that I have coveted for a while. I'm totally in love with these that just arrived today, the Cakewalk by October Afternoon stamps. My favorite is the little fox pulling the wagon filled with birthday cake! Too bad for my wallet that I have my eye on the paper collection now.
SimonSaysStamp is always a favorite place to pick up stamps and I've been a little greedy.
SimonSaysStamp.com always has low international shipping, and if you ship all flat items they can fit them into an envelope for even faster delivery. I managed to pick up some Hero Arts and Studio Calico stamps. I'm sensing a theme with Studio Calico.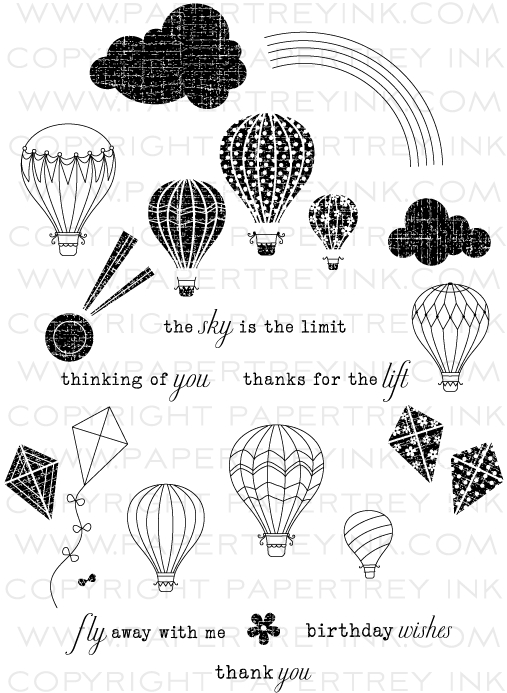 My local PaperTreyInk.com dealer had just listed some stamps and I snapped them up in a heartbeat.
What's with hot air balloons? WHAT'S NOT WITH HOT AIR BALLOONS? I've even ordered a set of hot air balloon stamps from Joann.com! I'm in love with Hot Air Balloons and that's no hot air.
Can't wait to get creative with these goodies!
Thanks for reading and have a great day!