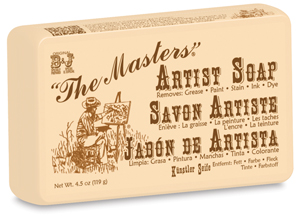 Hi everyone! Here with a product review!
With a personal project looming for a conference I've not had much time for "traditional" paper crafting and have been doing watercoloring with my Twinkling H2O's.
Twinkling H2O's are mica infused watercolour paint pots that can be used for stamping, or even traditional watercoloring.
Some of the paints are made with dye inks, such as greens, blues, and purples.
Because of this dye based colour, I'm finding that my skin gets easily stained and stays stained for days! Quite tired of dyed hands I had just given up, let my nails be stained green (ew!)
My hands can get stained quite easily despite having a high cell turnover rate and regular exfoliation!
I took a trip to a 2$ shop and to my surprise they had The Master's Hand Soap!
This soap is usually $30 nz in store with the brush cleaner, but I managed to find it for 12$ at LookSmart in Auckland in the automotive section. A bit confused as to why I'd find it there in the automotive section and not the art section, I snatched up this deal quickly!
I came home and started to work on my watercoloring project and once again, found my hands dyed green and my extremely porous nails were tinged, as well as the skin around them from a leaky green container of Twinkling H2O paint.
I remembered I picked up the soap - so I gave it a go.
Thinking that it was going to clean it just a bit - to my shock it got rid of all the ingrained dye and whitened my nails, even the ones that weren't stained. This odd looking, dark green bar of soap is worth it's weight in gold for my stained hands.
If you're looking for something to clean your hands after crafting - or to whiten your nails (I swear!) before getting a manicure - give this soap a try
. No more than few seconds though, and make sure to moisturise afterwards as it does strip the skin a bit.
Overall, I give this product a 10/10 and highly recommend picking up even just a trial size as a little bit goes a long way.
Thoroughly impressed with this product and did not expect almost instant - no scrubbing - results from this bar of soap.
Thanks for reading!